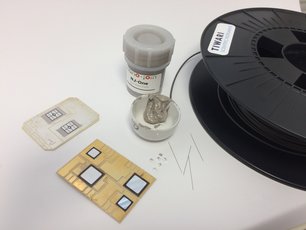 ADIESSN
Additive Interconnection of EEE components using Silver Sintering Nanotechnology
Context:
Project ADIESSN wants to show the feasibility of advanced and efficient manufacturing resulting in strong and highly conductive interconnections of 2D and 3D structures.
The challenge:
Connect silver sintering as interconnection technology with 3D metal printing for advanced manufacturing.
Develop a method and materials to use silver containing filaments for 3D printing.
Realise difficult and 3D shape structures for interconnection of wires, stamping parts.
Supplier:
User:
https://tiwari-instruments.com/