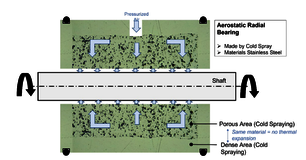 AEROFLOAT
Metallic Aerostatic Porous Bearings by Cold Spray
Context:
KOMETA TECHNOLOGIES plans to create metallic aerostatic porous bearings thanks to the new possibilities offered by Cold Spray Additive Manufacturing (CSAM) technology. The aim of the experiment is to create a proof of concept to validate the main characteristic. The goal is to print our first design of aerostatic bearing.
The challenge:
Define the most appropriate metal(s).
Precisely adjust the printing parameters allowing the deposits required.
Supplier: