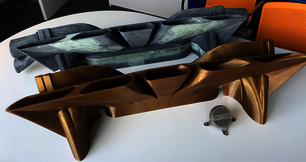 LARGE3DRAIL
Large and Complex 3D Additive Geometry for Rail
Context:
The product idea is to manufacture by AM air ducts for new power train generation, FULCRUM. Aim to produce low quantities of complex geometry without non recurrent costs, fulfilling rail business regulations, and reducing the weight than actual solution.
This geometry would be produced by high cost processes or with investment in non-recurrent assets, AM is an alternative to both processes, this project try to check its feasibility.
The challenge:
Produce complex air ducts for Railway applications.
Validate the additive technology is mature enough to be an alternative to moulded parts in railway sector (regulation, durability, price).
Develop design guidelines to produce printable parts for this purpose.
Define decision rules to identify when use AM instead other process.
Supplier:
https://optimus3d.es/en/optimus3d-en/