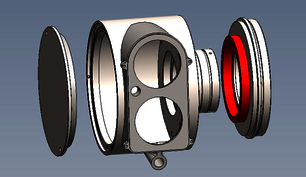 OFFCAMAM
Offshore camera systems in 3D-printed housings for harsh environments
Context:
Offshore CCTV cameras today are high-end products with strict technical requirement and high customer expectations in terms of quality.
Cameras that are used to oil and gas applications also need to be explosion and certified according to Ex/ATEX standards. In addition, they must be able to withstand the harsh offshore environment and be resistant to corrosion.
The challenge:
Manufacture selected low volume variant(s) of camera housings and other parts belonging to the camera assembly by means of laser beam powder bed fusion
Today lead time is long due to customized design and numerous manufacturing steps
Housings need to be EICEx- or ATEX-certified and withstand harsh environments
Redesign selected parts for AM (LB-PBF), possibly with material change from 316L to super-duplex stainless steel
Carry out and verify pilot production including post processing and qualification procedures
Reduce manufacturing cost with at least 10 % and/or reduce lead time significantly and achieve other benefits such as reduced inventory, reduced number of parts (parts consolidation) etc.
Supplier:
https://www.futurematerials.no/en
User:
https://www.hernis.com