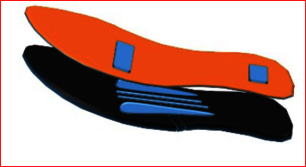 TADSOLE
Develop midsole of a sports shoe
Context:
The patented product idea is to manufacture a midsole that will optimize performance and comfort while minimizing injuries. This will be achieved via a shoe that is smarter than standard shoes. The shoe will become smart through the built-in flex-fix-technology that enables the wearer to exert more control over the degree of stiffness of the sole.
The challenge:
Define and specify the main features of a prototype in TRL 2/3.
Manufacture an experimental design using AM and test it as a proof of concept.
Implement a data strategy tool to help us determine processes, materials and methods; it must also help us evaluate the suitability of AM for production.
Define the design requirements and list in the data strategy tool.
Perform the feasibility study.
Supplier:
GMKS (NL)